Message from Principal Brewer
Posted: | Updated: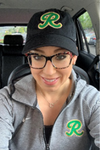 August 3, 2022

Dear Roosevelt Community,
How excited I am to be writing this letter to you as your new building Principal!  I have spent my career working in Seattle Public High Schools both as a high school teacher and a high school leader, but this year is unbelievably special for me.  I am counting the minutes with you as we enter the 100th year of Roosevelt High School together. I, along with our new 9th grade students will finally get to be official Roosevelt Riders during the centennial celebration year.
This fall will bring a new chapter to the history of this amazing school. In the past few years, we have all been asked to adapt and adjust in ways we never anticipated. Thank you for all the flexibility and for staying the course through every change. I am preparing along with our outstanding staff to be ready to greet every student with the very best we can offer in a safe, high-quality High School experience. We will welcome our students back with a renewed focus on students and staff mental, social, emotional and physical well-being.
Focusing on Family and Community Partnership: This summer I have been busy "putting down some roots" in the greater Roosevelt community. I am also working to create new partnerships to build a network of support to increase equity and inclusion at Roosevelt. Parents and community members alike are critical as we work together to achieve our common goals. In every case, I have found that parents, community members, students and staff are 100% committed to creating a healthy, thriving school community. I am inspired to come together and do amazing things built on mutual trust and respectful relationships. The support for this school's success is unparalleled.
Focusing on Student Voice: Students, this is your space and place! I want to listen to and honor your perspectives. Your voices and feedback are critical in allowing me to support you appropriately. I will work very diligently to make myself approachable and available to your needs, concerns, hopes and most importantly dreams! This is the time in life to explore and dream about what your next step toward a successful future will be. I am here to start to explore this journey with you. I plan to co-create your school experience with you at the table. As students you will be leading, contributing, and directing one another towards a positive, safe and supportive school climate where all identities are affirmed and celebrated. We will be forming a Principal's Cabinet soon, so keep an eye out for ways you can contribute.
Transparent and Regular Communications: As your leader, I have a strong commitment to sending out regular communications and improving our use of communication platforms related to Roosevelt. For example, you will find our first day of school schedule, as well as our Green and Gold Day plans published on our website. These details will also come to every family via School Messenger. For shorter messages, I like to use "Talking Points" to send a short text message to parents/guardians.
New Leadership Team: I will be introducing two new Assistant Principals to our school this year. Roy Merca and I are establishing a partnership with our new school leaders. This is a fantastic blend of experienced SPS high school leaders with new energy and talents from other school districts. Stay tuned as we will soon share their names, biography and particular roles they will be taking here at the school soon.
With everyone's collaboration and cooperation I believe we can achieve our goal of providing a school where students and staff mental, social, emotional and physical well-being is central to all we do. You are each a part of this effort and I look forward to working together with you all.
Go Riders!
Tami Brewer
Roosevelt High School Principal