22/23 Graduates Updates
Posted: | Updated: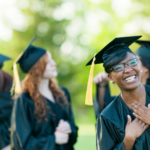 Diplomas
Diplomas will be available for pick up from the main office after August 16th.
Transcripts
Due to the Seattle Public Schools teacher's strike earlier this school year, there will be a delay when final transcripts for seniors will be sent to their colleges. Transcripts will be ready to go, and sent out by counselors on Friday, July 14th.
Graduation Photos
Photos will be taken of each graduate receiving their diploma. To order photos, please see the information from Rowland Studio below.
There will be individual diploma and the class group photos available to view and order online within a week of graduation.
The website to view/order photos from Rowlands Studio and grads will use their student ID numbers as the 'Access Code' 
In the meantime, graduates and families can register to receive an email notification when photos are online if they'd like. To register, they'll just go to the ordering site, enter their ID number, and then they'll be redirected to a little form where they can submit their name and email address.
*** Many students already have emails linked to their data from throughout the year and won't need to register again to receive a notification, they'll automatically get one as soon as photos are available online.
Pay Fines on the Source
Parents of 12th graders: Please help us by having your student look at their Source account and on the left toolbar is the link to fines, or nudge them to take a look at their school email.
Immunization information for graduates